As the calendar turned from 2020 to 2021, I thought about words.
Particularly the word "weary." It had seeped into my bones.
And I wondered if maybe, maybe…as much as I love them…I was tired of words.
Tired of the way they are wielded to wound.
Tired of the clamor.
One word with appeal: hibernation. Yes. Give me that word. It is, after all, winter.
I've just begun reading the book Wintering: The Power of Rest and Retreat in Difficult Times by Katherine May. Early in the book, May speaks of how plants and animals don't fight winter. They don't pretend it's not happening or carry on living the same as they would in summer: They prepare. They adapt. They perform extraordinary acts of metamorphosis to get them through. Winter is a time of withdawing from the world, maximizing scant resources, carrying out acts of brutal efficiency and vanishing from sight, but that's where the transformation occurs. Winter is not the death of the life cycle, but its crucible.
It is winter. My country is in a metaphorical winter. A bitter one. Certainly a crucible. What is being forged, I cannot say; the combination of a pandemic, many types of loss, from jobs to loved ones, to food insecurity, to strife and political unrest, seems almost more crucible than can be withstood. It takes its toll. Mentally, physically, emotionally. Withdrawing, at least from social media where vitriol is most rampant and draining, has great appeal. In the name of preservation, if not of one's sanity, then certainly of one's spirit.
Vanishing from sight. Alluring.
Makes me think of little bats I read about recently, how they survive the winter by making tiny dens in the snow. Took scientists years to figure out how they survived—only polar bears were known to make snow caves.
/
Ussurian tube-nosed bat, hibernating in Japan. Photo: Hirofumi Hirakawa. Science Magazine.
I am not a fan of bats, long before COVID-19. But that this tiny creature weighing less than a quarter ounce can endure, knows to endure, such harsh conditions in this way fills me with awe.
And that is the word I am clinging to in 2021.
Not hibernation. Awe.
I didn't feel like choosing a word as a focus for the year. Remember, I was weary beyond words. Yet when I flipped my planner to January 1, I found this quote: Experiencing awe, the feeling of being in the presence of something bigger than you, can improve your physical health and make you feel more altruistic. Intentionally create awe this month by spending time in nature, meditating, volunteering, etc.
So that is how awe chose me as a guiding word for the year, extracting an unwritten promise from me that I would look for it each day. I started capturing an "awe of the day" in a notebook…for three whole days. Then I started back to remote teaching with sketchy Internet and a plethora of other school-related issues that weighed heavy enough to bring tears, a rare thing for me. All which were obscured today by the long shadow of the U.S. Capitol. Tonight another word from my planner's awe-quote, altruistic, rises to the surface: having a genuine and selfless concern for others.
Where is it?
Like awe from which it is born, it must be looked for.
When I see it happening, I take heart. I am awed by others who, in the darkest of times, are the light-bearers. The healing-bringers. In these moments I know I am in the presence of something greater than myself.
I also happened to read this quote from Albert S. Rossi in Becoming a Healing Presence:
We need to push "pause" often and avoid reacting to the latest and loudest…The Lord expects us to live a life of love for Him and for others.
We have all the time we need to do all the things God has us here to do, in a peaceful way…We revere time as a way to remain peaceful, no matter what, to please God who gave us time. We have time to be come more of a healing presence during our remaining time on Earth.
We don't live life. Life lives us.
Those words and that wisdom fill me with awe, like the little bats which know to burrow in the snow. Like the stars, like the ocean that I haven't seen in eighteen months and am longing to see again, for the healing it offers my soul, for the taste of salt and infinity on its breeze. Like the children at school (on the screen) who are so buoyant. Like my son's music—I can hear the keyboard upstairs, as I write—and his beautiful voice when he sings. Like his older brother's way with words and his deepening altruistic nature. Like my daughter-in-law, a gift straight from God to our family, and her artwork in both painting and baking. Awe. Like my granddaughter's face, lit with joy, every time she comes to see us. She has changed our world.
Just one more reminder that I'm in the presence of something far, far greater than me.
What the world needs now might not be as much love, sweet love, as awe, healing awe.
Did you see the two widowed penguins with their wings around each other in an award-winning photo, touted one of the best of 2020? Animals know. Let us humans likewise be a healing presence to one another, moving forward.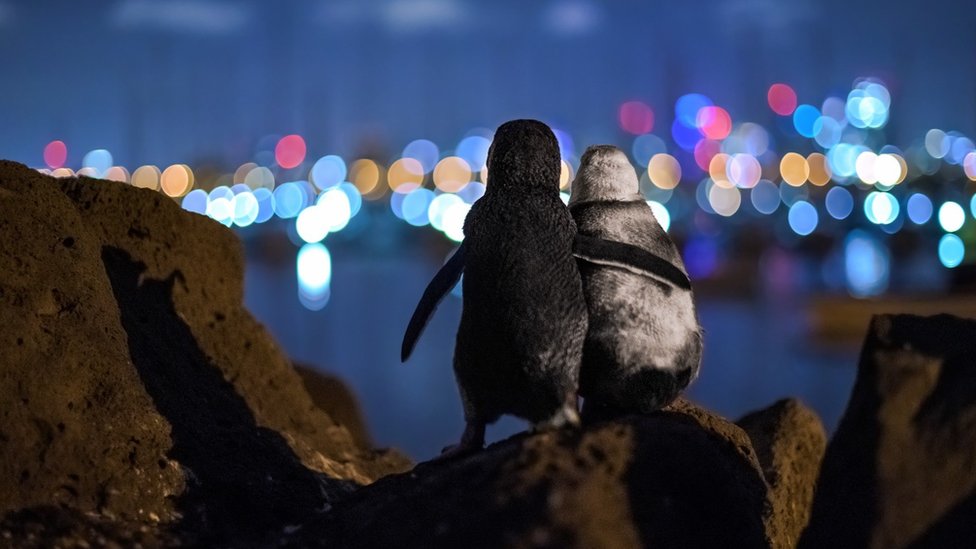 Tobias Baumgaertner. Ocean Photography Awards. BBC News
Here's to claiming your awe. Or letting it claim you.
Just little more of mine:
Unicorn cake my daughter-in-law made for my granddaughter's birthday…
unicorns, by the way, are a symbol of healing.
My granddaughter's portrait, painted by her mom, as a Christmas gift to my husband and me.
*******
With much gratitude to my Spiritual Journey Thursday group. You all are another source of awe. Special thanks to Carol Varsalona for hosting at Beyond Literacy Link. Per Carol's suggestion, I am including a link to a prayer-poem here that I wrote earlier, tying "awe" (note the beginning letters in the title) to being a vessel of the Spirit: Alight with Expectancy.